Vegan Mofo 2010 – Day 29
I hope the title of this blog didn't get you to open up hoping that I would show you how to actually make masala dosa. If it did I'm sorry because this is just a pictorial blog of our anniversary dinner at a South Indian restaurant in Johannesburg named "Thava". What's great about the place is there are different items on the menu and it's authentic South Indian food where most restaurants in Johannesburg are North Indian and the menus are identical.
For those of you that have never had a dosa it's a little piece of savoury heaven (or the closest thing you get to it) similar to a very thin savoury crepe but crispy. A masala dosa is a dosa stuffed with spicy potatoes. (this one tonight almost tasted like a spicy Indian bubble and squeak).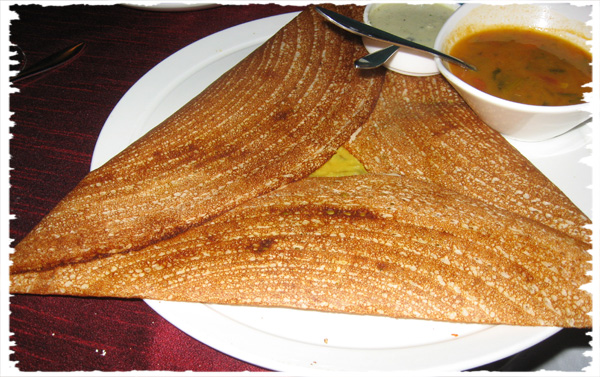 Masala Dosa served with urad dhal and a wonderful thick coconut chutney
We had our masala dosa as a starter (bigger enough for two to share comfortably). Accompanied by vegetable jalfrezi and aloo gobi matar (the wonderful combination of potato [aloo], cauliflower [gobi] and peas [matar] ).


Vegetable Jalfrezi


Aloo Gobi Matar
(sorry about the poor photo quality on this my flash ruined it. I really need to invest in a photography course)